| | |
| --- | --- |
| Version | |
| Download | 0 |
| Total Views | 1 |
| Stock | ∞ |
| File Size | 15.61 MB |
| File Type | |
| Create Date | 19 Ottobre 2019 |
| Last Updated | 19 Ottobre 2019 |
Billy Download
KOF XIII Billy Kane Chars Download
Mugen Character Billy Kane tratto da The King of Fighters XIII , il tredicesimo episodio della serie di videogiochi The King of Fighters, pubblicato dalla casa editrice giappone SNK Playmore.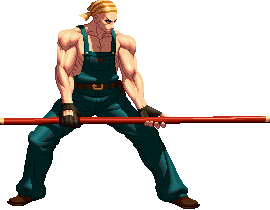 Video Gameplay Art of Fighting Team Ash - Saiki - Billy
Informazioni Character
Nome = "Billy"
Displayname = " Billy_XIII"
versiondate = 05-08-2012
mugenversion = 14,04,2001
Autore = "iori974" portrait edit By Axander
pal.defaults = 1
Intro = ND
Ending : ND
Questo personaggio può essere scaricato anche nel gioco completo The King of Fighters XIII By Mugenation
Disclaimer
Ogni Download qui su Mugenation rappresenta una copia di backup dei file originali rilasciati dagli autori, al fine che questi permangano in futuro e non vadano persi, tutti i crediti per i files vanno solo ed esclusivamente ai rispettivi autori.
Tutti gli utenti sono invitati a visitare il sito dell' autore quando presente e a scaricare il file direttamente dal sito ufficiale.
Se l' autore o il sito non è presente in archivio, e qualcuno di voi ne è a conoscenza, vi prego di contattarmi alla seguente e-mail mugenation.info@gmail.com al fine di comunicarmi il file relativo a cui mancano i dati autore/sito e chiaramente i link ufficiali, in modo da inserirli correttamente.
Supportaci
Supportaci iscrivendoti al canale You Tube Mugenation Gameplay, lasciandoci un like se il video ti piace e un commento in ogni caso.