Bastard!! Mugen Full Game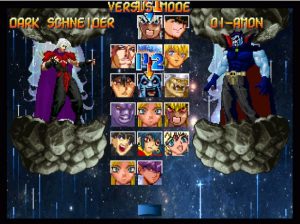 Bastard!! Mugen è un gioco mugen basato sulla serie Manga di Bastard!! L'oscuro Dio distruttore, se non conosci Bastard!! puoi leggere le info su wikipedia.
Il gioco è stato assemblato da me utilizzando M.U.G.E.N Mix come screepack, editando le immagini di intro e opzioni.
I personaggi, le intro e le ending sono tutto merito di TONY ADV, di cui non trovo un sito ufficiale, se qualcuno avesse dei riferimenti precisi da aggiungere per TONY ADV mi contatti.
Informazioni di Gioco
Personaggi
Di seguito la lista dei 17 personaggi, di cui 15 giocabili e due sono boss :
I crediti per tutti i Chars vanno a Tony ADV
ABIGAIL
ANSLASAX – Boss Finale Non giocabile
ARSHES NEI
DARK SCHNEIDER
DI AMON
DRAGO – Boss Non giocabile
GABRIEL
GARA
GOBLIN
KAI_HARN
KALL SU
LARS
MICHAEL
MINOTAURO
MJ DARK SCHNEIDER
PORNODIANO
SEAN HARRI
Stages
Di seguito la lista dei 26 stages disponibili in gioco:
Meta Likana Castle
Centro dell'Arca
Arca – Virtu & Potesta
Reattore nel Arca
Meta Likana Chapel
Meta Likana Chapel 2
Meta Likana
Meta Likana – Night
Meta Likana – Storm
Tolomea
Di-Amon Castle
Foresta
Cocinto
King Crimson Glory
Kall Death
Limbo Infernale
Limbo Terrestre
Void Howling
Pandemonio
Villaggio Pietrificato
Rocca dei Ninja
Stanza del Tesoro
Villaggio
Villaggio in Fiamme
Tutti i crediti degli stages possono essere letti  all'interno dei rispettivi files .Def
Video Gameplay
Download
IT – Il download link è disponibile nella descrizione del video YouTube.
ENG – The download link is available in the YouTube video description.
BR – O link para download está disponível na descrição do vídeo do YouTube.
FR – Le lien de téléchargement est disponible dans la description de la vidéo YouTube.