The King of Fighters XIII By Mugenation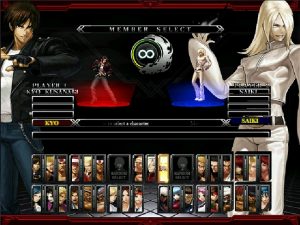 Versione Steem riadattata per  Mugen di KOF XIII è il tredicesimo episodio della serie di videogiochi The King of Fighters, pubblicato dalla casa editrice giappone SNK Playmore.
Continua a leggere tutte le info sulla versione ufficiale della SNK su Wikipedia
Video Preview
Info di Gioco
Nome = KOF XIII By Mugenation
Autore = Axander By Mugenation
Versione di Gioco = 1.1
Data Ultima Versione 19/10/2019
Aggiornamento al 19/10/2019
Aggiornamento del gioco:
Corretto Personaggio Ryo con la versione Corretta di KOF XIII
Corretti i vari Portrait Del Personaggio Ryo
Sostituiti tutti gli stages con altri che vengono visualizzati correttamente.
Corrette le dimensioni del personaggio Duo Long
Sostituiti alcuni file Sound degli stages
ScreenPack crediti
Nome = "KOF XIII Steam Edition"
Autore = "Hloader"
Version date = 04-30-2014
Mugen version = 1.1 BETA 1
Lista Personaggi
38 personaggi giocabili di cui 4 nascosti
Kyo
Benimaru
Daimon
Terry
Andy
Joe
Adel
Ash
Ryo
Robert
Takuma
Iori
Mature
Vice
Elisabeth
Duolon
Shen
Kim
HwaJai
Raiden
King
Mai
Yuri
K'
Kula
Maxima
Athena
Kensou
Chin
Ralf
Clark
Leona
Ash
Saiki
Dark Ash
Saiki 2
Ex-Kyo
MR. Karate
I crediti per tutti i Chars possono essere letti all'interno dei file .def
Elenco Stages Disponibili
PortalXIII
kof-XIII-Old-South-Town_Stage
XX'FRANCE'XX
XX'COLISEUM'XX
IndiaXIII
KOFXII_China_Downtown 1.1
KOFXIII_Skyscraper
STAGE SAIKI
kof-XIII-Kyokugen-dojo_Stage
jungle_KOFXIII
Burnt Remains
I crediti per gli stage possono essere letti all'interno dei file .def
Bug Conosciuti
Immagine del personaggio Saiki True da Correggere la posizione.
Consigliati da Mugenation
Download Link
The King Of Fighter XIII By Mugenation full Game Download
Supportaci
Supportaci iscrivendoti al canale YouTube Mugenation, lasciandoci un like se il video ti piace e un commento in ogni caso.