Mugen 1.1 Mugenation Edit
Mugen 1.1 Mugenation Edit non è altro che una versione mugen 1.1 base che ho modificato al fine di poter gestire i personaggi con gli standard che ho utilizzato negli ultimi progetti.
Ad oggi ho editato i portrait e big portrait di circa 500 personaggi mugen vari, così ho deciso che lentamente rilascero gli stessi in modo da poter essere utilizzati con questa versione.
A tal fine l' edit consiste nel poter gestire in modo semplice e ottimale questi characters che andrò rilasciando, ovvero basterà solo scaricarli, inserirli nella cartella char e mettere il relativo nome nel file select.def.
In questo modo avendo un mugen base e dei personaggi con i Portrait migliorati, chiunque si potrà assemblare il proprio gioco con un minimo di dettaglio grafico di base più accattivante.
Mugen 1.1 Mugenation Edit modifiche
Nel dettaglio le modifiche, in fondo piuttosto semplici, ma complesse per chi si approccia per la prima volta al mugen.
Modificato la sezione dei personaggi, riposizionando i BigPortrai secondo lo standar che utilizzo ovvero 360×420.
Eseguita riduzione degli sprite lampeggianti player 1 e player 2 per la scelta del personaggio.
Reimpostata dimenzione, posizione e distanza della scenta dei personaggi.
Impostato di base la scelta personaggio a 32 slot in 4 righe orizzontale e 8 verticale.
Riorganizzato dimensioni e posizione degli sprites della schermata versus.
Modificato il file fight.def per ridimensionare l'immagine di default del personaggio accanto alla propria barra vitale
Riorganizzata la schermata di victory in modo da centrare il big portrait correttamente.
Sostituito Kung Fu Man originale con quello creato da Oggy.
Screen esemplificativi
Select screen 32 slot e big bortrai e portrai editati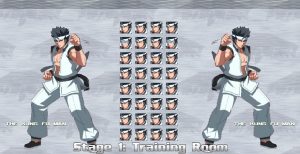 Versus Screen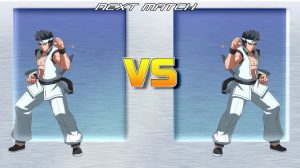 Victory Screen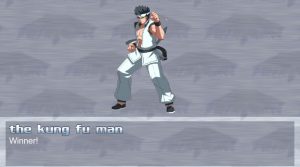 The Kung Fu Man By OGGY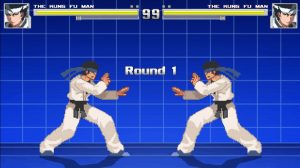 La sezione dedicata ai personaggi con i Portrait editati è la seguente Mugenation Edit Portrait Archivi – Mugenation
Crediti
Elecbyte naturalmente per il mugen 1.1.
Oggy per il personaggio The kung fu Man.
Mugenation solo per i vari edit.
Consigliati da Mugenation
Download Google drive
Mugen 1.1 Mugenation Edit download
Link Correlato