Street Fighter IV Ultra Mugen HD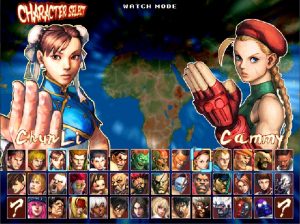 Street Fighter IV  Ultra è un videogioco picchiaduro del 2008, sviluppato e pubblicato da Capcom per PlayStation 3, Xbox 360, Nintendo 3DS e Microsoft Windows.
Si tratta del quarto capitolo della famosa saga di videogiochi Street Fighter, il primo a essere sviluppato per le console di settima generazione.
Continua a leggere su Wikipedia.
Video Gamplay
Informazioni di Gioco
Info
Nome = "ULTRA Street Fighter IV M.U.G.E.N 2014"
Autore = "RistaR87"
ScreenPack, Portraits and Endings by RistaR87
Lifebars by Alexlexus
Intro by Duracelleur
-Autori Chars:
M.M.R. JOse cuervo, Dragon972, Rei, Borewood, DonGeronimo, Mike Werewolf, Mr. I,
Rajaa, Kaysombi, Werewood, Anagram, QiYue China, Da_Maverik, MabsKMK, Rin & Bat
Characters
Totale Personaggi 40:
Ryu
Ken
ChunLi
Guile
Sakura
Honda
Blanka
Dhalsim
DeeJay
Cammy
Abel
Adon
Zangief
Dudley
Yang
Cody
Rufus
Viper
Ibuki
Gouken
Akuma
Sagat
Vega
Balrog
Bison
Juni
Juri
Seth
Poison
Hugo
Alex
Elena
Jin
Nina
Lili
Law
Asura
Oni
Omni
Mecha Seth
Stages
Totale Stage Disponibili 45
Ryu_Stage_HR.def
Buildings_Day_HR.def
SFIV_Crowded_Downtown.def
SFIV_Air_Field.def
Classic_home_HR.def
Dojo_HR.def
SFIV_Pitch_Black_Jungle.def
Cambodia_HR.def
Fountain_HR.def
Cool_Town_HR.def
Town_Fair_HR.def
Corridor_HR.def
Street_HR.def
SFIV_Morning_Mist_Bay_Stage.def
Factory_Outside_HR.def
London_HR.def
BASARAX_Itsukushima.def
House_Waterfall_HR.def
Final_Fight_HR.def
Bridge_Night_HR.def
China_Sunset_HR.def
Forest_Rain_HR.def
SFIV_DesertedTemple.def
Sagat_Stage_HR.def
Castle_HR.def
Vegas_HR.def
Heliport_HR.def
Building_Top_HR.def
Quiet_Time_HR.def
Secret_Laboratory.def
Operations_Centre_HR.def
SFIV_Volcano.def
SFIV_OldTemple.def
SFIV_Under_Construction.def
Africa_HR.def
CVS_Rain_HR.def
Rain_on_the_buildings.def
SFIV_Jungle.def
Saikyo_Dojo.def
Storm.def
Snow_Japan_HR.def
Street_Fighter
TEKKEN_NOH_THEATER
TEKKEN_ANGER_OF_THE_EARTH
SFIV_Training
I crediti per gli stage possono essere letti all'interno dei file .def
Vedi tutti i download dei giochi creati in Mugen
Full Download Link
IT – Il download link è disponibile nella descrizione del video YouTube.
ENG – The download link is available in the YouTube video description.
BR – O link para download está disponível na descrição do vídeo do YouTube.
FR – Le lien de téléchargement est disponible dans la description de la vidéo YouTube.
Supportaci
Supportaci iscrivendoti al canale You Tube Mugenation Gameplay, lasciandoci un like se il video ti piace e un commento in ogni caso.