Street Fighter II Turbo HD Remix Mugen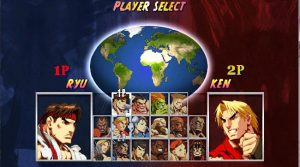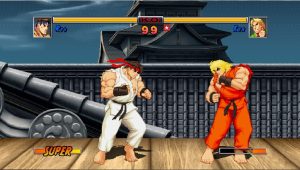 Street Fighter II  Turbo HD Remix non è altro che una vera e propria conversione del gioco originale svilippato dalla Capcom in HD.
Ogni personaggio, sprite, animazione e state e stato interamente ridisegnato da un gruppo di artisti della udon comics
Continua a leggere su Wikipedia.
Video Gamplay Street Fighter II  Turbo HD Remix  Mugen version
Informazioni di Gioco
Conversione per mugen dei personaggi è a circa il 65%
Info
Nome = "Super Street Fighter HD Remix"
Autore = "Parse"
Versione = 24,05,2010
Versione Mugen = 1.0
Characters
Ecco la lista dei personaggi attualmente convertiti per mugen e quelli ancora non disponibili.
Totale Personaggi 17:
 Akuma/Gouki : Or2=3
 Balrog/M.Bison : ND
 Blanka : Parse
 Cammy White : Zero-Sennin
 Chun-Li : Parse
 Dee Jay : ND
 Dhalsim :ND
 E.Honda :
 Fei Long : Parse
 Ken Masters : Parse
 M.Bison/Vega : Parse
 Ryu : Parse
 Sagat : Mima
 T. Hawk : ND
 Vega/Balrog : ND
 William Guile : Or2=3
 Zangief : Or2=3
Stages
Totale Stage Disponibili nel gioco versione mugen:
Akuma Stage
Ryu_Stage_1
Ryu_Stage_2
Honda_Stage
Blanka_Stage_1
Blanka_Stage_2
Guile_Stage_1
Guile_Stage_2
Balrog_Stage
Ken_Stage
Chunli_Stage_1
Chunli_Stage_2
Zangief_Stage
Dhalsim_Stage_1
Dhalsim_Stage_2
Sagat_Stage
Vega_Stage
Thawk_Stage_1
Thawk_Stage_2
THawk_Stage_3
Feilong_Stage_1
Feilong_Stage_2
Feilong_Stage_3
Deejay_Stage
Cammy_Stage_1
Cammy_Stage_2
Bison_Stage
I crediti per gli stage possono essere letti all'interno dei file .def
Vedi tutti i download dei giochi creati in Mugen
Download Link
IT – Il download link è disponibile nella descrizione del video YouTube.
ENG – The download link is available in the YouTube video description.
BR – O link para download está disponível na descrição do vídeo do YouTube.
FR – Le lien de téléchargement est disponible dans la description de la vidéo YouTube.
Supportaci
Supportaci iscrivendoti al canale You Tube Mugenation Gameplay, lasciandoci un like se il video ti piace e un commento in ogni caso.